General Shotgun Event Information
OK, here's everything you'll need to know. The information here will apply to all of our events, so pay attention! Many sections, so here goes...
Venue
Maps can be a little difficult for this venue, as no online mapping service seems to know about it's address. However, here is a "kludged in MS Paint" type map, and here is the Google Map of the general area. You should be able to work it out from there. Also handy is this MS Live Local jobby, which shows where various points of interest are.
We're holding this event at the same venue as last time: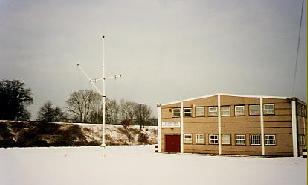 T.S.Swiftsure
Lower Weybourne Lane
Badshot Lea
Farnham
Surrey
This is a Sea Cadet unit, one of the largest in the UK, with ample parking and nearby supermarkets. As always, regular chauffeured supermarket trips will be available (if you're willing to risk being driven there by one of the admins, or other players with cars).
The venue is truly massive, with a huge main area, a fully equipped kitchen, an eating area, showers (thank goodness, you smelly oiks), and sleeping areas upstairs (Woohoo! With doors! First come first serve guys, slow people get the floor). All in addition to the usual lavatorial facilites ;-).
Please note that in order to keep the venue habitable for those of us who do not smoke, please ensure that you only smoke outside the venue.
Plans for the venue are available, for anyone interested
Network
The main network consists of fully managed Intel 100MBps switches, with a multi-gigabit backbone. Note that this equipment is very kindy loaned to us by Intel, and it seems to do the job very nicely :)
A full DHCP system will be in place, as with the previous events, ensuring no problems with network connections and IP allocation. Please see the PC Config section for more information on how to set your PC up ready for this.
An internal web server will be available, running an information site, and possibly a few stats packages on the day. This server should also carry major game patches and mods, to avoid any confusion. A 56Kbps modem connection to the outside world will probably be available for all your email/ICQ/IRC needs (as always, no downloads without prior approval from an administrator please).
Servers
As usual, we are hoping to have the use of one or more dual Xeon servers, which will be set up with any number of games servers. Please drop any suggestions into the forums, and we'll do our best to get them set up for you.
Tournaments
The tournament structure has yet to be decided - head over to the forums for the latest discussions!
What To Bring
Don't laugh at this list, or think it'll never happen to you. We've seen people forget some pretty important stuff. Not to mention the stuff that we've forgotten... The obvious stuff:
Your machine, and all the relevant power cables.
A four-way extension cable (preferably longer than 1m ;-]). Surge protection is always a good idea, and LAN parties are no exception.
Headphones NOT speakers (exceptions can be made if a valid medical reason is given - email kulgan@shotgunlan.com).
Your install disks for your games, OS, drivers, etc. You wouldn't believe how many people reformat at these events.
Your entry fee - See the payment info page for details.
Cash for food. Supermarket trips will be made, and there's a takeaway just down the road.
Sleeping bag, and your choice of floor padding. There will probably be a pump present, but don't count on it.
Earplugs. It's noisy at night, largely due to late night CSers, but also from the hum of 40/50+ machines.
A change of clothes, towel and toiletries of your choice for use in the showers. Antisocially smelly people will be reprimanded ;-).
PC Config
Another list, here goes:
Set the TCP/IP settings for your network card to "Obtain an IP address automatically", and "Obtain DNS server address automatically". This will make sure you can get onto the network with the minimum of fuss.
Deactivate all DHCP servers. That includes Microsoft's Internet Connection Sharing (ICS) and WinRoute, which have one built in. Uninstall ICS. Deactivate Winroute. If I catch someone with a DHCP server running I'll set Pete on you, and then you'll be sorry...
If you're sharing it, all adult content must be password protected with a non-obvious password. If people want to access your material, they can come and ask you for the password. This is to implement some crude age controls - we do have minors attending Shotgun, and we must allow for all our attending agegroups. There will be regular checks for unprotected shares - a task I'm sure we can persuade someone to volunteer for. *coughs*
Signup
Pop along to the signup page to see who's coming and to register your interest.
Legal Stuff
By attending Shotgun LAN you declare that you have read and accepted the disclaimer below (even though we've never had an accident yet).
Network Traffic Disclaimer: Under new legislation (think Napster!) the event organisers are liable for providing a means to transfer illegal data. Illegal data includes all pirated software, pornographic images/software, and viruses. You accept that you will be solely responsible should you transfer any illegal material across our network.
Personal Injury and Property Damage Disclaimer: You should be aware that we will accept no liability for loss or damage to your equipment or to injury you may incur on the venue premises. If you are concerned about possible damage to your property or injury to yourself you should take out suitable insurance cover.
Admission & Expulsion: We (the event staff) reserve the right to refuse admission. You should also be aware that we brook no anti-social behavior, and we will remove any trouble-makers without refund.
What Not To Do At A LAN
Consume more than your share of a desk. Each desk can fit two people comfortably, this can cause problems for late arrivals if people have spread themselves over all available space
Play loud music in the early hours. Beyond 4am, most people are trying to get some sleep, so please respect that. We ask for people to use headphones only for a reason. If you are asked to turn down your sound, please do so.
Have cheats on your PC. This should go without saying, but do not have any cheats on your machine. We don't care if you "were just messing with it", if you get picked up by cheat-detection software, it causes problems. Stay clean kiddies.
Bring vast numbers of non-players to the venue. By all means bring a friend along to check the event out (we don't even charge for spectators, unlike many LANs), but we don't want parties of people we don't know traipsing around a room full of expensive electronic equipment.
Most important of all!...Don't sit in a corner playing the same game all weekend. Shotgun LAN is all about having a good time and meeting people, over the years we've all made many good friends at the event. We encourage much socialising around the projectors and at the bar, go and chat to people, no-one is *too* weird (Glimmerman excepted ;))